St. Maarten Heineken Regatta boat
Proud to race under the St. Maarten Yacht Club flag, racing sailors Ben and Sabine Jelic from the Sint Maarten Yacht Club travel to compete in European racing events and bring back their experiences (and trophies!) to the island.
How it started
If you know Ben & Sabine Jelic well, they love spending their summers in Europe and if you know them very well, you know it's not without yacht racing! 
Ben reports they jumped on an opportunity to purchase a Melges 24 from a French Quantum racing team in Hyeres, (south of France) which was sitting in a yard for seven years. This Melges not only had a great reputation as being extremely fast but it had always been in good hands, as the first owner of the boat was Harry Melges, who had won the Melges Worlds in that very boat in 1998.
Once acquiring the Melges in late July, they decided to do as many races as possible near Croatia and Italy. While racing, they received a lot of attention for not only being extremely competitive, but how exotic they were perceived coming all the way from St. Maarten in the Caribbean! They were surprised at how many people knew and were connected with St. Maarten and the St. Maarten Heineken Regatta. "We were so proud being the ambassadors of Caribbean racing, the St. Maarten Heineken Regatta and the Sint Maarten Yacht Club," declared Ben.
Their journey began in Autria with the Attersee Austria grand prix long distance regatta, and went on to Croatia and Italy where they sailed the International Regatta Croatia powered by Heineken, the Bluesband Regatta, the Porto Picollo, the Barcolana and the Trofeo Bernetti Regatta.
The Barcalona regatta is crazy, historical and legendary, with no less than 1,755 boats on the same start line. With an adrenalin pumping wind of 20-25 knots, 'Wild Devil's Baby' fought for position, all while trying not to damage their boat. Ben declared, "It was like a parade of racing boats, from maxis, to TP52s, to skiffs and more!" 
Ben, Sabine and the crew of the 'Wild Devil's Baby' were ecstatic to finish the season on a high note, make a vast amount of new friends, show a great performance, hold their heads high at the end of each race and had endless amounts of fun.
Follow Sabine and Ben in their European Tour from July – August, 2018 by following us on Facebook!
Latest news 
European Tour 2018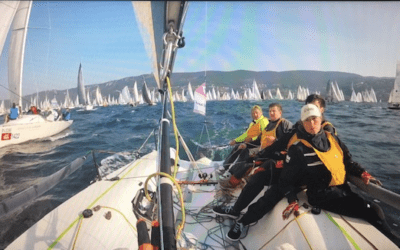 Our last and biggest Regatta for the season, the legendary Barcolana! This regatta is not only a spectacle to see, it is also a 14 mile long trapeze-shaped course and a seven day festival! Good racing combined with the smell of pizza and the sound of Italian music is...